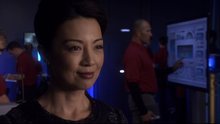 Michaela Wen is the Senator sent by the DOD to oversee and run Eureka.  It appears that she is a high-ranking, even leading, member of The Consortium when she issues the kill order on Holly Marten.  Beverly Barlowe traps her in a matrix after the events with the crew of the Astraeus ("The Real Thing"). She is played by Ming-Na Wen.
Ad blocker interference detected!
Wikia is a free-to-use site that makes money from advertising. We have a modified experience for viewers using ad blockers

Wikia is not accessible if you've made further modifications. Remove the custom ad blocker rule(s) and the page will load as expected.