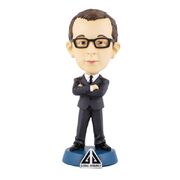 Fargo
's
Bobble head
is his prized possession that he keeps on his desk while being director of GD (Global Dynamics). Often when Fargo was happy or mad, he would flick the head causing it to bobble around. In the last episode, when Henry became director, he kept the bobble head on his new desk. It looks, feels, smells, and tastes just like Fargo himself.
Ad blocker interference detected!
Wikia is a free-to-use site that makes money from advertising. We have a modified experience for viewers using ad blockers

Wikia is not accessible if you've made further modifications. Remove the custom ad blocker rule(s) and the page will load as expected.