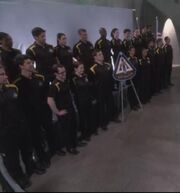 Monroe, Grace (Tembi Locke) - Captain
Donovan, Zane (Niall Matter)
Fargo, Douglas (Neil Grayston)
Marten, Holly (Felicia Day)
Fowler, Nick (Craig Anderson)
Miller (male)
Paglia (male)
Tuchman (Troy Rudolph)
Welsh (female)
Yamamoto (male)
Berg (female)
D...? (male)
Yoo (Elizabeth Thai)
with 4 additional men and 3 additional women.
Dr. Isaac Parrish was one of the alternates.
Ad blocker interference detected!
Wikia is a free-to-use site that makes money from advertising. We have a modified experience for viewers using ad blockers

Wikia is not accessible if you've made further modifications. Remove the custom ad blocker rule(s) and the page will load as expected.